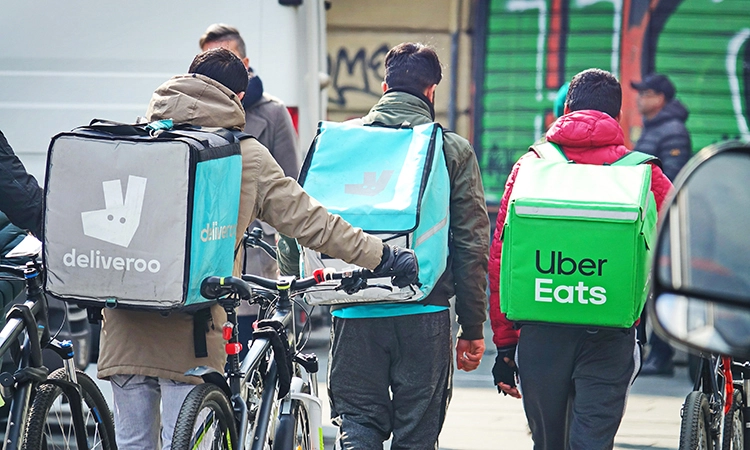 February 19, 2023
Flex Economy: Research Shows Most Gig Work Supplements Other Income Sources
According to the Aspen Institute's Future of Work Initiative, about a quarter of workers participate in the gig economy, which can give them more flexibility, income streams, and stability. But how many of these gig workers use that as their primary source of income vs. as a "side hustle"? New research from economist Liya Palagashvili, Senior Research Fellow at the Mercatus Center at George Mason University, references official IRS data that shed light on this. (Dr. Palagashvili participated in our DCI Working Group on Delivery Fee Caps in 2022.)
In an interview Dr. Palagashvili did with Bloomberg (at 2:00:00) last Thursday, she described how "Gig economy job growth is driven almost entirely by workers that are supplemental earners." Drawing on the IRS study, Palagashvili discusses how people with "gig jobs" like delivering food for companies such as DoorDash, Uber Eats, and Grubhub or driving for Uber or Lyft make up fewer than 10% of the overall independent contractor workforce, which includes such diverse jobs as, for example, freelance musicians, school tutors, nannies, fitness trainers, and graphic designers. In addition, most of these gig workers do it to supplement other sources of income including, full-time employment (in other words, they have both W-2 and 1099 income).
According to survey data shown in the Bloomberg TV segment, the top reason workers do gig jobs is to support basic needs (26%), followed very closely by autonomy/flexibility (24.9%), enjoying the work (25%), and additional income (20%).
The Mercatus Center analysis is backed up by publicly available data from the gig platform companies themselves. For example, according to Lyft's Annual Economic Impact Report, 96% of drivers also work elsewhere or are students, 66% of drivers either already have a job or are looking for a job outside of app-based work, and 95% of drivers drive fewer than 20 hours a week. Elsewhere, Doordash reports that 90% of their "dashers" work fewer than 10 hours a week on any given week.
This new research provides important context as various states including California, Washington, Massachusetts, and now Utah, plus the U.S. Department of Labor, consider the classification of and benefits for gig workers. Because of the broad implications, in some instances freelancers such as actors and musicians have pushed back against such proposals because they, if passed as-is, would hamper such freelancers' flexible arrangements as contractors.
Dr. Mark Drapeau is Editor In Chief of the Data Catalyst Institute.