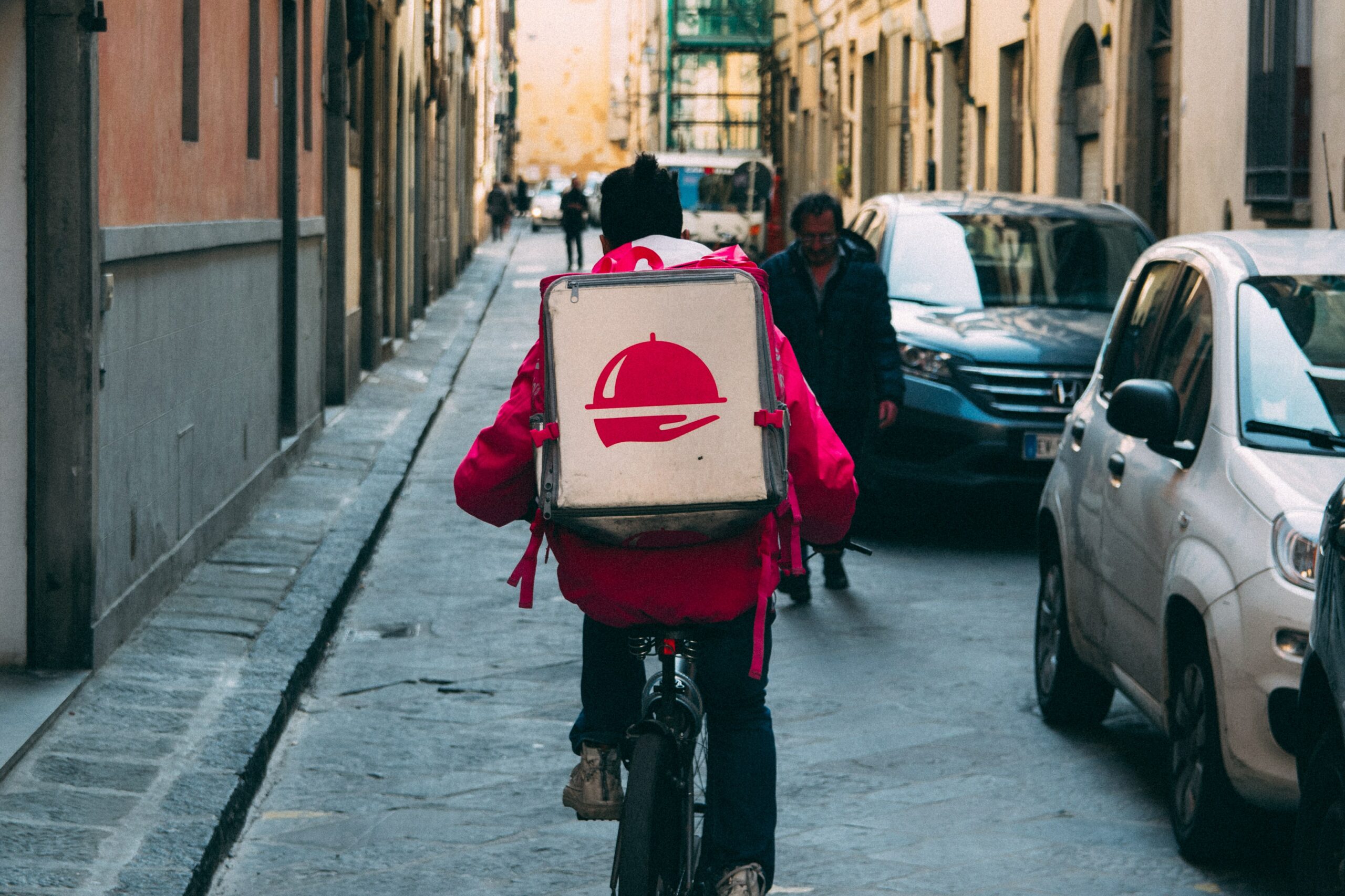 Fee Caps on Food Apps: Exploring NYC Law Setting Maximum Restaurant Delivery Fees
September 2022
During the COVID-19 pandemic, several cities and states legislated fee caps on popular food delivery services such as Uber Eats, Grubhub, and DoorDash, limiting what these companies can charge food and beverage businesses. The Data Catalyst Institute (DCI) recently published a white paper by Prof. Liad Wagman, a former Federal Trade Commission economist, summarizing economic arguments for why government-imposed fee caps on delivery apps do not help – and likely harm – small food and beverage businesses that are policymakers' intended beneficiaries.
While there are many historic examples of fee caps not working as intended, rigorous data on the consequences of the delivery service fee caps during the pandemic is harder to come by. Recently, however, DoorDash reported that its order volume in Chicago dropped by 8.6% following imposition of the city's delivery fee cap, and that DoorDash delivery team members lost a collective $650,000 in earnings each month (or $7.8 million annually) as a result of fewer orders. In a separate blog post, DoorDash reported that driver earnings also plummeted in several more fee-cap jurisdictions that the company analyzed, including Philadelphia and St. Louis.
A recent Grubhub blog post noted similar effects in New York City, which also imposed fee caps. In that market, the company reports that small and medium-sized restaurants have lost orders at least in part because the fee cap reduces access to Grubhub integrated marketing services. In NYC, Grubhub restaurants that "benefitted" from lower fees due to the cap experienced dramatically less 2021 order growth on the platform, compared to restaurants that continued paying the pre-cap fees. Grubhub also note a related disparity in delivery driver tips, as tips for drivers delivering food from restaurants "helped" by fee caps did not grow during the pandemic, perhaps because Grubhub imposed customer delivery and service fees to offset the reduced restaurant fees and customers responded by reducing or not increasing tip amounts.
Notwithstanding historical and now recent data about fee cap failures, some jurisdictions have maintained and even made their caps permanent. Several months ago, the NYC Council made permanent a previously-enacted emergency ordinance that set maximum limits on restaurant delivery fees. The ordinance caps fees at:
15% of the amount of a delivery order,
5% of all other fees, including the fees paid by restaurants to market their restaurant, except payment processing fees which can be additional.
To consider whether the NYC fee cap ordinance would actually help restaurants as intended, or might instead trigger unanticipated and harmful effects, we gathered a discussion group of economists and other relevant experts (predominantly from New York City) and posed a series of questions. This Report is informed by their input.
It is notable that the discussion and Report are occurring against a backdrop of litigation, wherein the largest restaurant delivery firms are asking a court to invalidate the fee cap ordinance as an unconstitutional exercise of government power in the private market. This Report, however, does not delve into legal considerations.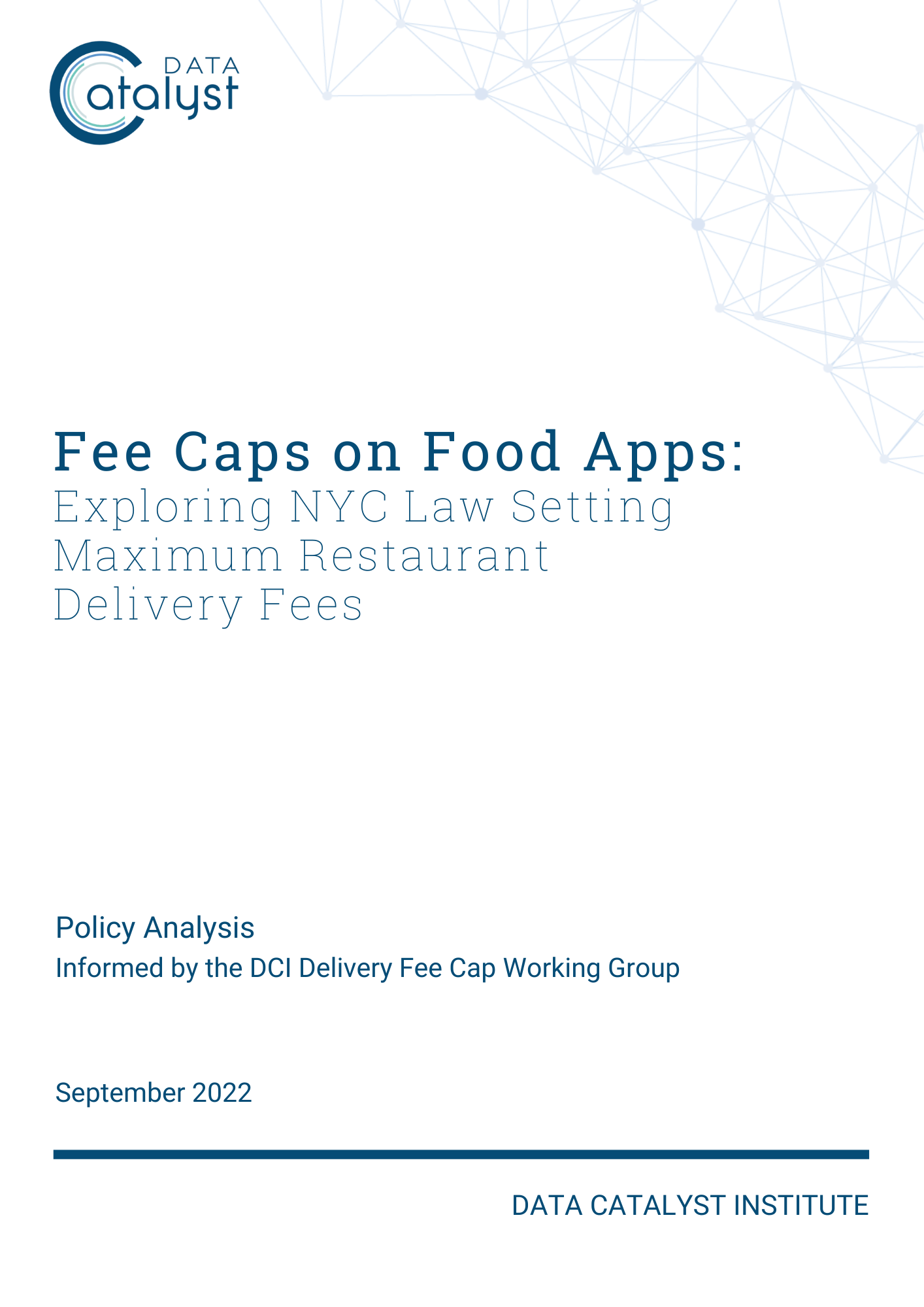 Fee Caps on Food Apps: Exploring NYC Law Setting Maximum Restaurant Delivery Fees
Data Catalyst Institute
September 2022