 Super Selling: Most Small Businesses Still Use Multiple Sales Methods in a Post-COVID World
May 2023
Several decades of public discourse have reduced common thinking about small business retail into simple comparisons, such as suburban malls vs. downtown shopping areas and online stores vs. brick and mortar ones. We put this to the test in a new survey of 1,000 U.S. small and medium-sized business (SMB) leaders in the post-COVID retail landscape and found that today's retail world is dynamic, fluid, competitive, full of opportunity, and anything but simplistic. Our major findings include:
Modern SMB sellers use many methods of reaching consumers, including online and offline, wholesale and retail, direct-to-consumer, and selling through third-party marketplaces. This report describes eight popular methods through which SMBs sell.
The typical SMB seller today uses five (5) different methods of selling products to consumers at the same time.
The four most popular sales methods are both traditional and modern: physical "brick and mortar" retail stores (70% of SMBs use), wholesaling (68%), third-party online marketplaces (64%), and a seller's owned and operated web store (63%).
Few SMBs confine themselves to a single sales method; for example, nearly all online marketplace SMB sellers use at least two sales methods, and 85% use four or more.
On average, about two-thirds (65%) of a typical SMB's revenue is driven by the four most popular sales methods listed above, with brick and mortar accounting for 25% of revenue.
Within a given sales method, SMB sellers also frequently use more than one competitive vendor; for example, 85% of SMB sellers on Amazon's online marketplace also sell on at least one other online marketplace, which are not mutually exclusive – 58% also sell on eBay, 48% also sell on Walmart's marketplace, and 36% also sell on Etsy.
In a post-COVID world, SMB sellers also fulfill orders in diverse ways: For instance, when asked which sales and fulfillment combination best describes their business, a third (33%) said they make sales online and deliver the orders to the customer while nearly another third (29%) make sales online and fulfill the orders at the store or otherwise in-person. (Note they can sell and fulfill in more than one way.)
SMB sellers that use more methods are also far more optimistic about their business's future. They project higher growth over the next 3-5 years, increased sales outside their local area, and have much better opinions about their local economy and the overall U.S. economy.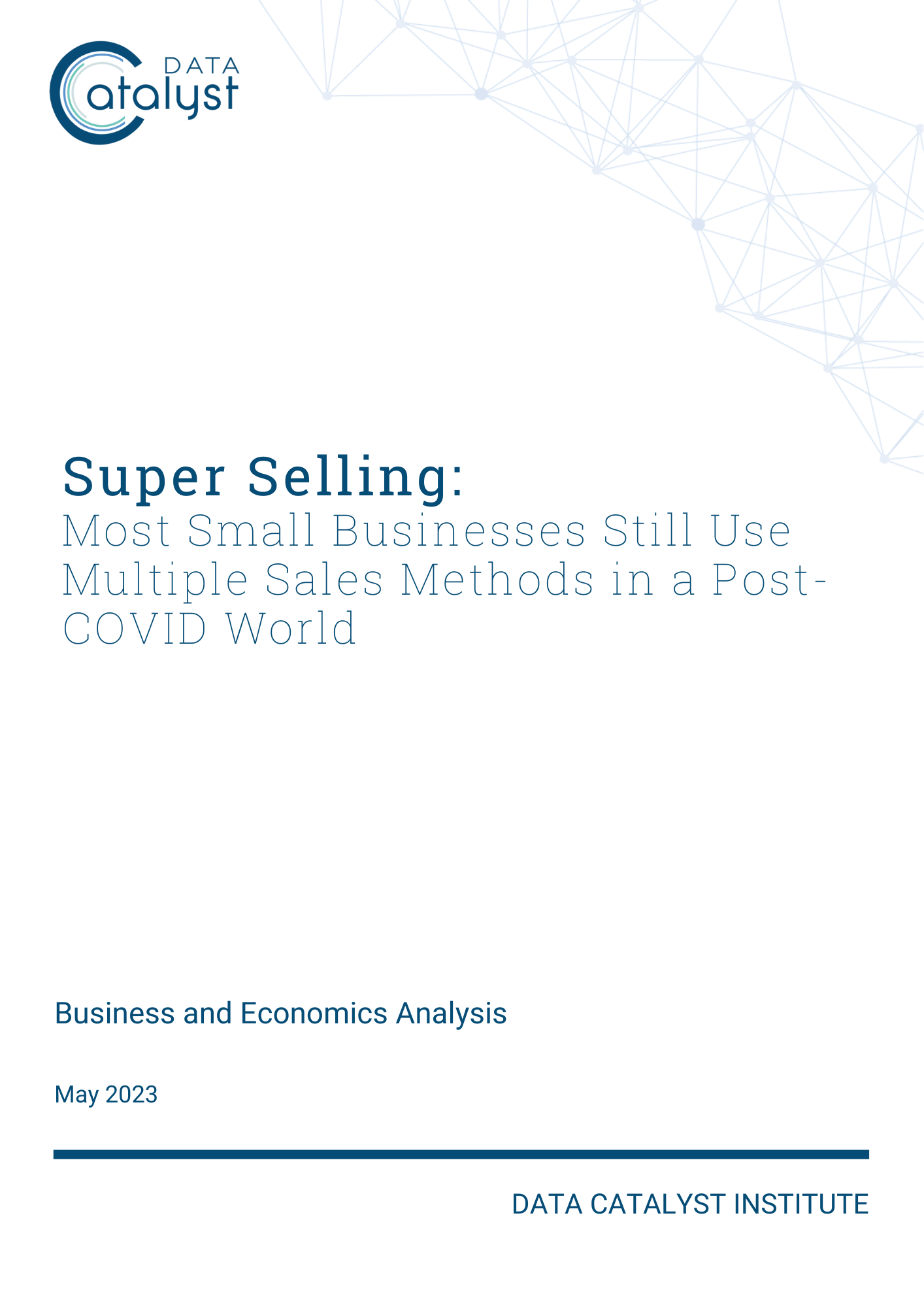 Super Selling: Most Small Businesses Still Use Multiple Sales Methods in a Post-COVID World
Data Catalyst Institute
May 2023