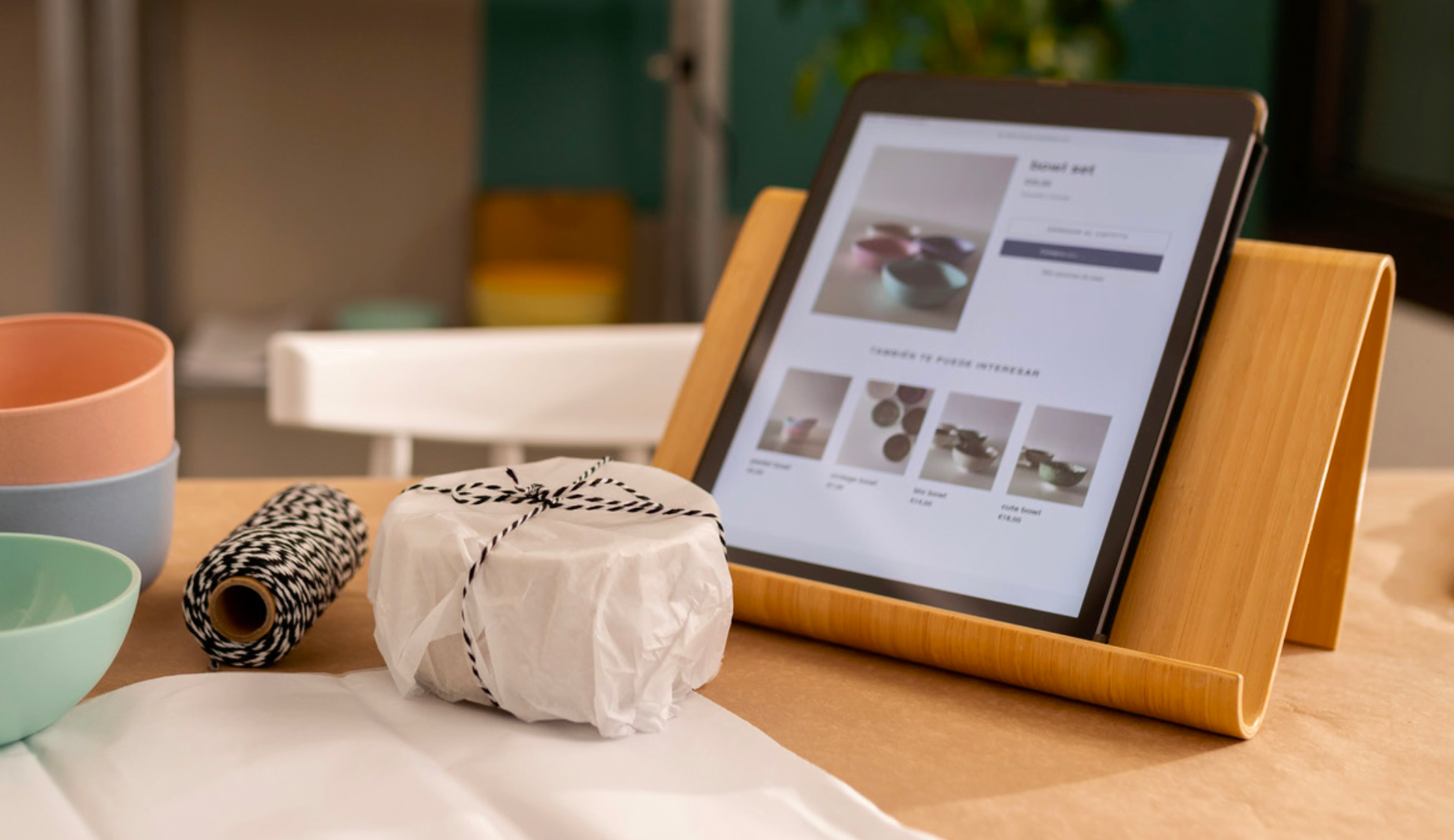 Super Selling: How Contemporary Small Businesses Reach Customers and Sell Products
November 2021
Download the full report here.
Defining Contemporary Small Business Selling: An evolutionary leap from one-size-fits-all ancestors, small and medium-sized businesses that sell physical goods (henceforth, "SMB Sellers"), now have many sales methods (distinct ways of selling, both online and offline) and digital tools, platforms, stores, and marketplaces (that facilitate the selling) available to them. Critically, many of these are relatively inexpensive and easy to set up and use, and add tremendous business value.
Contemporary SMBs use multiple sales methods to retail inexpensively, track orders and shipments, and reach new customers, including those in new geographies. Popular sales methods include physical "Brick and Mortar" stores, Wholesaling, third-party Online Marketplaces, and company-owned Web Stores. 91% of SMB Sellers use more than one sales method out of the eight primary methods we studied in detail (which account for nearly all SMB sales). 80% of SMBs use at least three sales methods.
In this report, we define "Super Sellers" as the 44% of SMBs maximizing these eight sales methods, while "Advanced Sellers" (36%) use between 3-5 sales methods. The remainder (20%) are "Simple Sellers" – businesses that can be quite successful but that use a simplified array of selling methods and revenue options available to them in contemporary retail. (While SMBs falling within all three informal groups can be and are successful", for the purposes of this research the groupings yielded additional insights about SMBs that choose to use more vs. less sales methods.)
The Typical Small Business Diversifies Its Sales Methods: In this report, we define Super Sellers as those SMBs that sell through more than 5 sales methods, and Simple Sellers as those selling through 1-2 sales methods. The average SMB today is an Advanced Seller (selling through 3-5 sales methods), using an average of five (5) methods to connect with customers. It is important to note that these are groupings made specifically for our analysis – SMBs are not "locked" into any particular group; rather, they can deploy or stop using sales methods as they see fit.
SMB Sellers are not merely listing products in multiple places, but actually driving revenue; revenue is more distributed across sales methods for Super Sellers than for Simple Sellers, for whom it is only derived from 1-2 sources. Indeed, 39% of Simple Seller revenue is driven by "Brick and Mortar" (i.e., physical retail store) sales alone.
Far from being "winner take all" or "zero-sum," sales methods are used by SMBs together in various combinations in a fluid manner. Using five or more methods may seem complex, but SMBs with limited time and resources don't stick with a method unless it succeeds by delivering revenue. SMB Sellers have clearly adapted to rapidly shifting consumer trends and purchasing patterns that have no doubt been accelerated by the COVID-19 pandemic.
There is a lot of variation amongst what the U.S. government typically defines as SMBs, with many having fewer than 10 employees or even just a sole owner/ operator, while others are more sophisticated operations with many products and hundreds of employees. Yet while logically it is easier to manage more sales methods with more employees, in some cases creativity and a willingness to learn new things can be more powerful than brute force – a full 69% of "micro" SMBs with fewer than 10 employees are Advanced or Super Sellers.
SMB Sellers Benefit From a Mix of Traditional and Digital Sales Methods: SMB sellers' two most popular sales methods are "Brick and Mortar" retail stores (79% of SMBs sell this way) and Wholesale (78%), which together on average account for 36% of SMB seller revenue.
Online Marketplaces (where a third party hosts many SMBs in the same place) and company-owned Web Stores are also quite popular, with 68% of sellers using each to collectively generate 35% of SMB revenue. Other sales methods are more niche, but all four of these remaining methods are used by roughly half of SMBs as part of their broader sales strategies.
The Role of Digital Tools in SMB Selling: Most SMB Sellers view digital tools as integral to their business operations. Nearly all (91%) say digital tools are important, if not critical, to how their business currently sells products, and a majority (57%) say they are absolutely critical and could not operate without them. These numbers climb even higher with the number of sales methods being used – 98% of Super Sellers view digital tools as important or critical to their success. Notably, such digital tools are not only important for online sales methods, but also for facilitating Wholesale transactions between companies (e.g., JOOR) and digitizing the point-of-sale with consumers in a traditional Brick and Mortar store (e.g., Clover).
Retail is Filled With Choice and Competition: SMB Sellers have many different sales methods, digital tools, and stores or marketplaces to choose from that facilitate particular sales methods. Across different sales methods, different companies offer the most popular options among SMB Sellers: for example, Square, Clover, and PayPal are the most, second-most, and third- most popular for Brick and Mortar stores, Shopify, Squarespace, and BigCommerce for Web Stores, and Amazon, eBay, and Walmart for Online Marketplaces.
Frequently, SMB Sellers choose to use multiple vendors within a specific sales method. For example, 87% of SMB sellers on Amazon Marketplace also sell on at least one other Online Marketplace. 54% of Amazon Marketplace sellers are also selling on Walmart's Online Marketplace and 50% of Amazon Marketplace sellers are also selling on eBay. This pattern of competition and choice holds up across all the leading Online Marketplaces, as very high percentages of SMB sellers on eBay (89%), Walmart (92%), Target (98%) and Etsy (91%) also sell on at least one other Online Marketplace.
Deeper Dive – Online Marketplaces: SMB Sellers rarely sell just using an Online Marketplace. Remarkably, 99% of SMB Sellers using at least one Online Marketplace also use at least one other sales method. Several lines of evidence suggest that a typical SMB uses Online Marketplaces to grow and diversify from a "core" business likely to be based in Brick and Mortar and/or Wholesale sales.
On another note, while there are many Online Marketplaces available to SMB Sellers, some policymakers and regulators have implied that sellers are "locked in" to Amazon's popular marketplace. We found just the opposite: 100% of SMB Sellers using Amazon's Online Marketplace also use at least one other sales method, and 83% use five or more sales methods. Put differently, the typical SMB Seller using Amazon's Online Marketplace is more Super Seller than Simple Seller.
Diversifying Sales Methods Is Associated With Optimism and Success: Super Sellers are more optimistic about their businesses, their industries, and the U.S. economy. Compared to Simple Sellers, Super Sellers are: twice as likely to be 100% optimistic about their business' future, 1.7X as likely to project higher revenue this year (vs. 2020), 1.4X as likely to believe their industry is in good or excellent shape, and 2.5X as likely to believe the U.S. economy is in good or excellent shape.
We believe this means that leaders of Super Sellers know that spreading out risk and diversifying revenue through the use of multiple sales methods leads to better business outcomes for their SMB. It also suggests that they are more likely to believe that their SMB and others like them are contributing to the growth of their industry and the overall economy.
Retail Means Choice, Competition, and Value For Sellers:
Modern retail is full of opportunities. SMB Sellers often sell their products using many different methods that are frequently supported by low-cost, efficient digital tools and platforms. In turn, these methods, tools, and platforms are offered by many different companies that compete for SMBs as business customers.
Moreover, while online sales methods and false dichotomies ("online vs. offline," "shopping malls vs. downtown stores," and so forth) tend to get headlines, our research found that a majority of SMB Sellers tend to use traditional Brick and Mortar and Wholesale as sales methods. In fact, these two methods alone drive about a third of SMB Seller revenue.
This suggests that Web Stores, Online Marketplaces, Offline Marketplaces (like farmer's markets) and other sales methods add to traditional sales methods for the typical SMB Seller. SMB selling is fluid; there appear to be many realistic choices and alternatives that help sellers sell.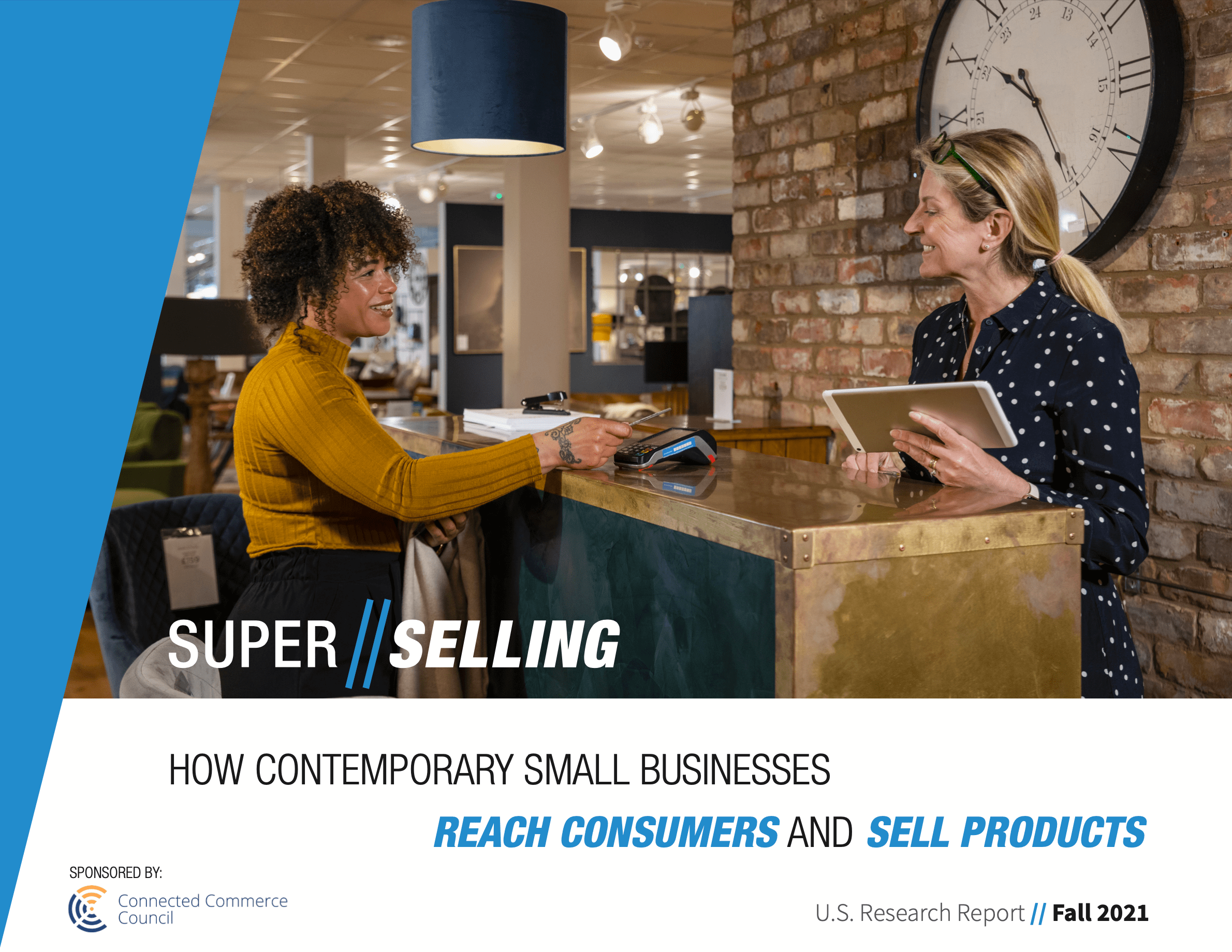 Super Selling: How Contemporary Small Businesses Reach Customers and Sell Products
Data Catalyst Institute
November 2021