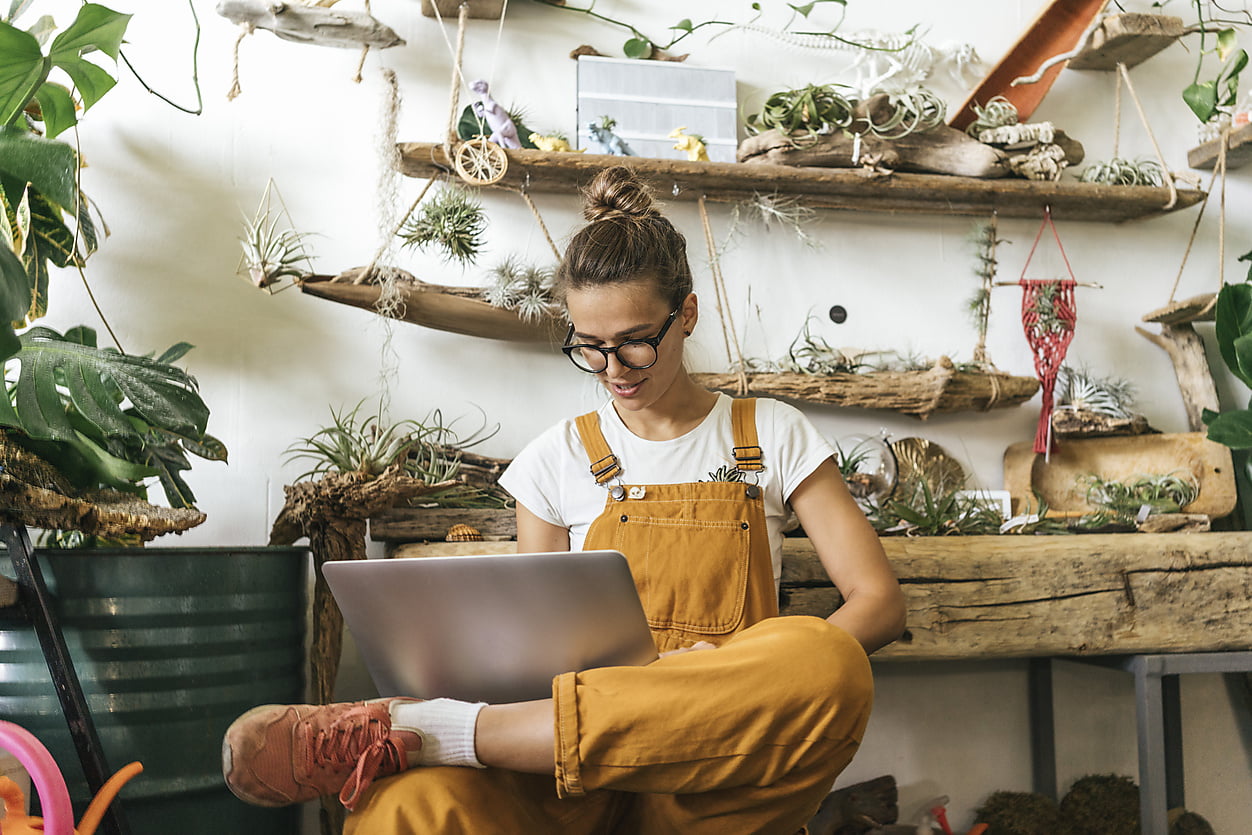 Super Selling: Exploring the Diversification and Potential of Rural Small Business Retail Sales
October 2022
Download the full report here.
Rural Small Business Retail Sales Are Remarkably Diverse: Several decades of public commentary have reduced common thinking about small and medium-sized business (SMB) retail into simple and often binary options like suburban malls vs. Main Street or brick-and-mortar vs. online stores. The truth is far more interesting. The evolution of traditional retail practices alongside the growth of online selling has created a variety of options and aggressive competition for SMB sellers' attention, investment and allegiance.
SMB sellers, including those in the most rural areas of the United States, are savvy, resourceful, and sell goods in many different ways, taking advantage of the various sales methods available to them. In fact, contrary to some popular myths, the broad majority of rural SMB sellers use many methods to reach consumers, including selling both online and offline, via wholesale and traditional brick-and-mortar retail, through online marketplaces, and direct-to-consumer through web stores, social media, and other methods.
This report investigates how rural SMB sellers sell physical goods, which sales methods they favor, and which methods drive most of their revenue. It also presents data about how they sell not only locally but also over long distances at the same time. Finally, we show that rural SMB sellers using more sales methods are generally also more optimistic about the economy and their business' future.
Most Rural Small Businesses Sell Goods In More Than One Way: Rural SMB sellers use quite diversified sales methods, with 79% using more than one distinct sales method (e.g., wholesaling and operating a brick and mortar store is two methods). The typical rural SMB seller uses three or four different methods for selling products to consumers, and about 29% use five or more methods. (We describe these methods in more detail in the following pages).
Most rural SMB sellers use multiple sales methods, mixing and matching online and offline channels. Only 18% of rural SMBs sell only online, and only 11% are solely offline. The broad majority (71%) use combinations of online and offline sales methods. We note that even those just selling online or offline typically use more than one method (e.g., web store and an online marketplace, or brick and mortar retail plus wholesale).
While using multiple sales methods can be challenging, it is nevertheless possible to do, even as a relatively tiny business. Indeed, about half (49%) of rural SMBs with fewer than 10 employees use at least three distinct sales methods. While it isn't effortless, it has probably never been easier to learn about, begin using, and maintain a new method of selling goods to customers.
Rural Small Business Sales Methods and Revenue Sources Are Highly Diversified: Exactly what sales methods do rural SMB sellers use? Their most popular sales methods are: business-owned web stores (57% of rural SMBs use), online marketplaces (also 57%), brick and mortar retail stores (53%), offline marketplaces such as farmer's markets and similar in-person gatherings (47%), and wholesale (46%). As previously noted, most rural SMB sellers use more than one method for selling their products.
By definition, rural SMBs are located in low-density areas with relatively few customers compared to suburban areas and major cities. Thus, to reach customers outside their local areas, customers must come to them ("destination retail"), or the SMBs must market to customers and sell over long distances. Rural SMB sellers report that business-owned web stores and online marketplaces are the two most effective sales methods for selling to customers outside of the area where rural SMBs are based. (This may partly explain why these are the two most popular sales methods overall).
SMB sellers will tend to only stick with a sales method if it's working for them. Importantly, we found that revenue is also driven through multiple sales methods (a mix of online and offline). Some methods are more important on a percentage basis for driving revenue than others: two-thirds (67%) of rural SMB seller revenue, on average, is driven by a combination of three sales methods: brick and mortar retail stores (27%), online marketplaces (23%), and business-owned web stores (17%).
Diversification of Retail Sales Methods Is Associated With Optimism and Success: Diversifying sales methods certainly allows rural SMB sellers to connect with and sell to different customers in different places. But, interestingly, those that use more sales methods are also more optimistic about future sales, business growth, and aspects of the economy than those that use few methods.
Compared to rural SMB sellers using just one or two sales methods, those using 6 or more sales methods are:
1.5X as likely to think their 2022 revenue will be higher than 2021 revenue.
1.8X as likely to be certain their business will grow over the next 3-5 years.
5.6X as likely to rate their local economy as excellent.
Selling in diverse ways allows rural SMB sellers to be agile in the face of economic and societal shocks, giving them a "safety net" when times are tough. Naturally, they also have more optimism about their success – and potential for future success – during better times.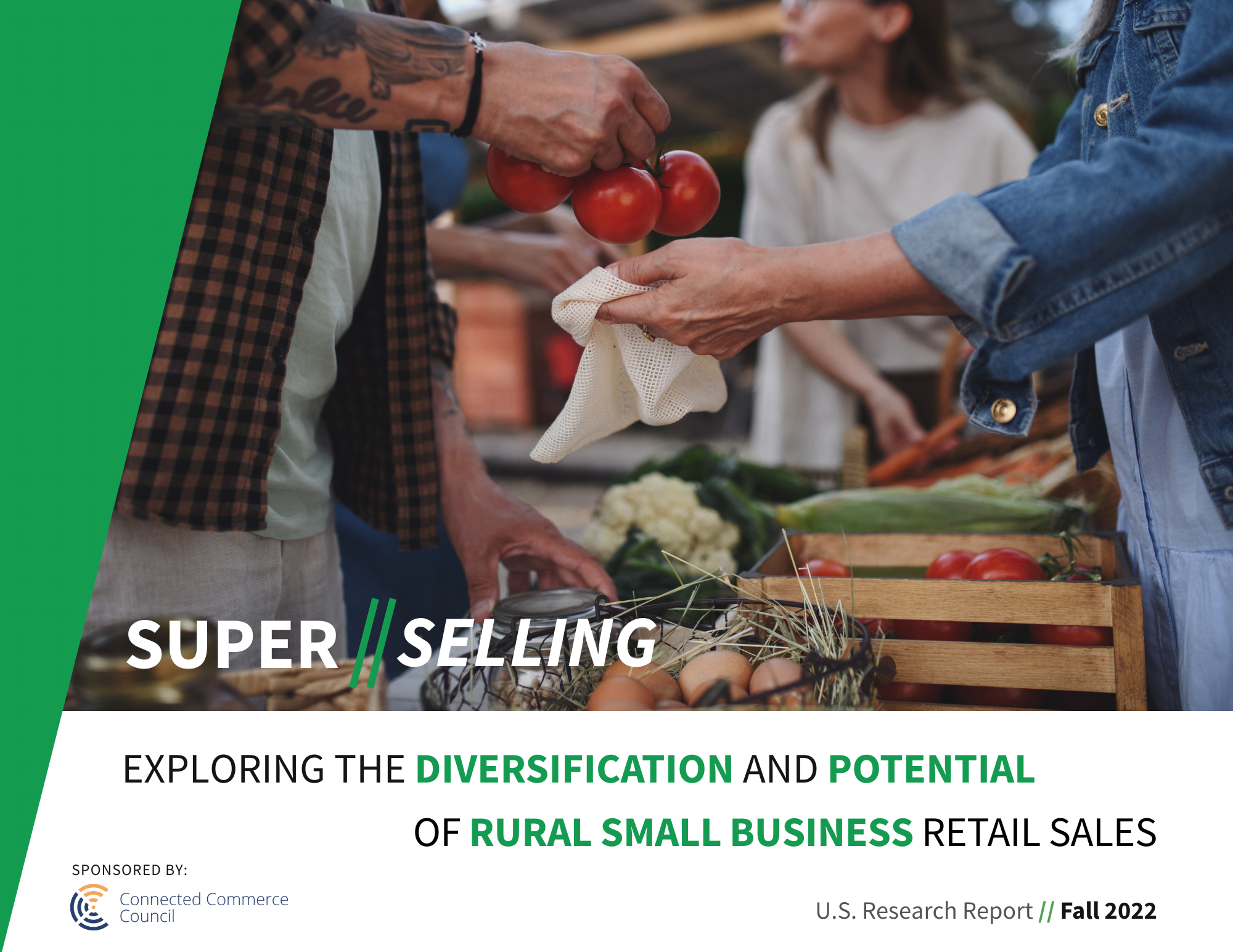 Super Selling: Exploring the Diversification and Potential of Rural Small Business Retail Sales
Data Catalyst Institute
October 2022