Digitally Driven: U.S. Small Businesses Find a Digital Safety Net During COVID-19
September 2020
The Data Catalyst Institute provided research support for this report published by the Connected Commerce Council with Google.
COVID–19 has disrupted everyday life and caused a national economic crisis with an outsized effect on small- and medium-sized businesses (SMBs). This is particularly true for micro–businesses with less than 10 employees, which make up over 90% of all U.S. businesses. The unprecedented scope and scale of COVID-19 is testing traditional rules of commerce and economies – and potentially setting new rules. The availability and utility of digital tools for SMBs is, to some degree, helping them navigate this turbulence.
Small business' embrace of the "Digital Safety Net" – defined as the use of digital tools to adapt, survive, and recover from economic or societal shocks – appears to be a leading indicator of their broad ability to adapt, sustain, and recover from shocks, whereas more digitally vulnerable businesses may not. Evaluating the size, strength, and potential shortcomings of a Digital Safety Net for SMBs will ultimately help them better prepare for crises in the future while recovering from this one today. To that end, this research report focused on answering two major questions: First, what is the degree to which a Digital Safety Net is at work for SMBs during COVID-19? Second, what are the underlying financial, temporal, and behavioral factors that influence the value of a Digital Safety Net for specific SMBs?
This report demonstrates that digital tools have indeed been critical for SMB success during COVID-19, providing them with a Digital Safety Net. Of the 7,000+ operational SMBs surveyed, those that utilized more digital tools did better during the pandemic, and those that used them early and used them more did even better. Even SMBs that have not fully embraced digital tools recognize their value. Overall, the report concludes that the Digital Safety Net is real, and it is likely to be a critical factor for SMBs not just during COVID-19, but for future challenges and shocks. The report includes specific recommendations for small businesses, technology companies, and policymakers based on the findings.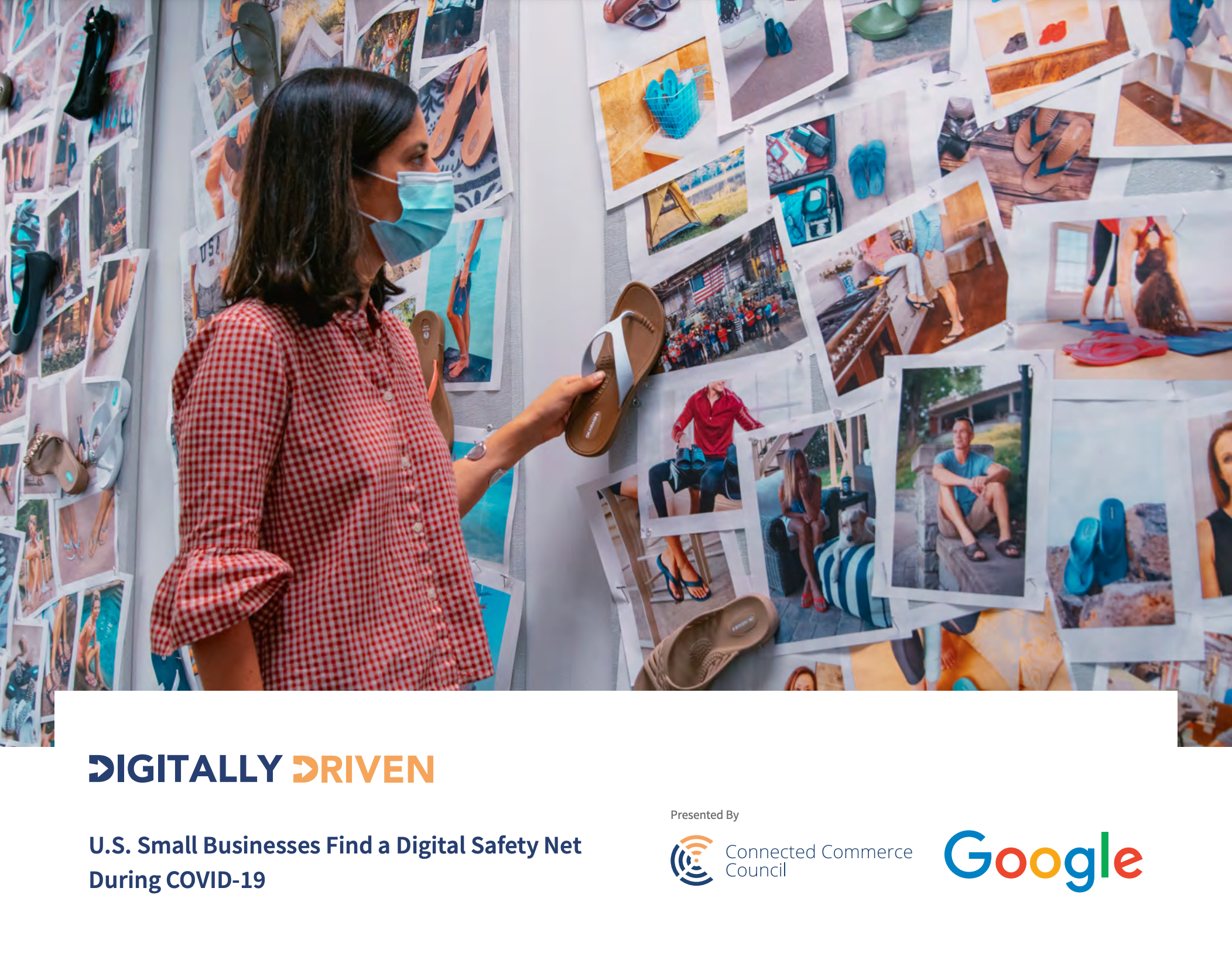 Digitally Driven: U.S. Small Businesses Find a Digital Safety Net During COVID-19
Connected Commerce Council
September 2020